The #StopThePatrioticBill Movement has gained momentum and trends on Twitter as some Zimbabweans intend to block the government from enacting the Patriotic Act which among other things seeks to block Zimbabweans to commit actions that "sabotage" their country.
The #StopThePatrioticBill Movement was launched by Namatai Kwekweza, a law student after on the 2nd of March, a motion to enact the Patriotic Act was introduced in Parliament by ZANU PF MP A. Mpofu seconded by another ZANU PF MP and MDC-T MP Tekeshe.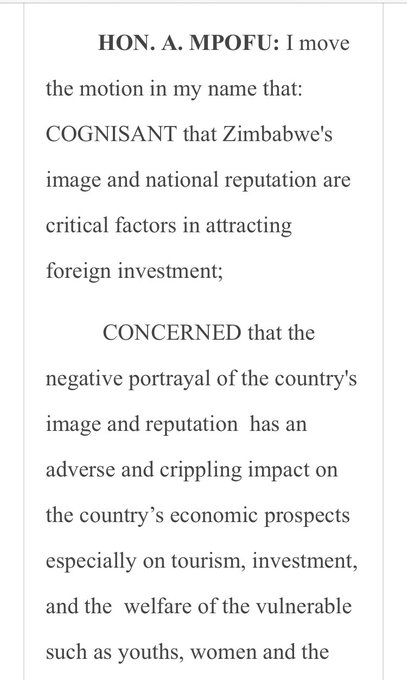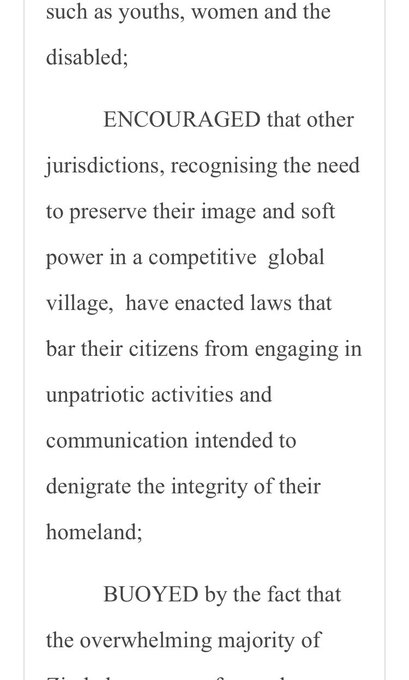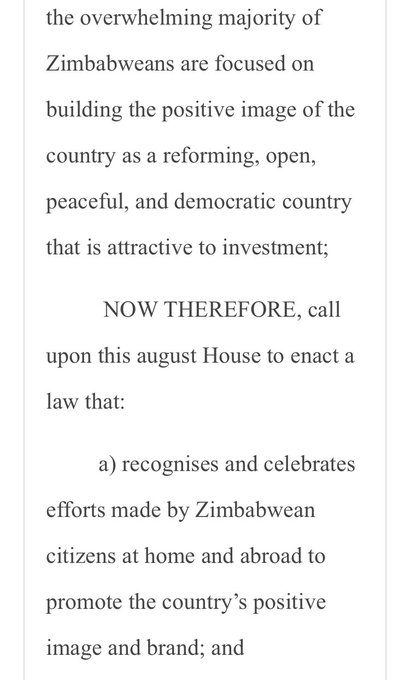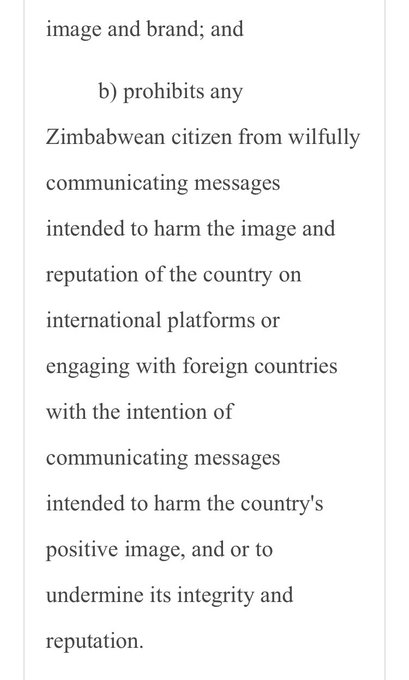 This followed a discussion in Cabinet last year to enact the law which according to government officials, is meant to criminalize campaigning against one's own country.
The law criminalizes and imposes stiff penalties for private correspondence by what was termed as 'self-serving citizens', with foreign governments or any officer or agent.
The opposition and some analysts believe the law was influenced by the #ZimbabweanLivesMatter campaign, which was centered on demanding respect for human rights in Zimbabwe, and, therefore, it is purported to silence dissent.
Gladys Kudzaishe Hlatshwayo, Secretary for International Relations in the opposition Movement for Democratic Change Alliance led by Nelson Chamisa says the law must be seen as an attempt to further the fascist agenda of a one-party state. she added:
"
It must be stopped! Unlike in democratic countries, fascist regimes like ZANU PF have a tendency to present selfish self-serving goals as national interest. 

#StopThePatrioticBill

For a very long time, ZANU PF has seen itself as Zimbabwe & vice versa. This conflation is dangerous, undemocratic & unconstitutional. On the contrary, criticizing ZANU PF for raping, abducting & killing citizens is patriotic! We love our country, it's ZANU PF we distaste.

The attempt to draw parallels between this draconian law and the US Logan Act is preposterous & amounts to false equivalence. The Logan Act is obsolete- has only been used in 2 indictments & there has been not a single successful prosecution since 1799.

#StopThePatrioticBill

Exposing and campaigning against the excesses of the Mnangagwa regime will never stop for as long as they continue with their corrupt, predatory, and authoritarian tactics. Citizens have a constitutional right to freedom of expression 

#StopThePatrioticBill

Matters of the heart must not be the remit of a government, more so when the government's conduct makes it so difficult for citizens to belong. Love and commitment must not be forced on citizens. It is tantamount to rape! 

#StopThePatrioticBill
Government focus must be on creating an enabling environment for patriotism to thrive including fixing the governance culture to be democratic, inclusive & rely on consent over coercion. Deep structural political & economic reforms are an imperative 

#StopThePatrioticBill"
The government has often accused the opposition and some civil society organizations of being used by "Zimbabwe's enemies" to act in a way that sabotages the Southern African state.
The MDC has always been accused of inviting sanctions on the country which have "caused untold suffering on the masses," therefore, the law must "be viewed as a way of clipping such elements." The party denies the allegations adding that the label was the state's scapegoat to commit human rights violations.